Description
Celtic Knot Clipon Earrings
Celtic Knot Clipon Earrings are handmade clip-ons. Pierceless, finger pressure earrings made with permanently colored, tarnish resistant, anodized aluminum wire. Features an 8mm Celtic Knot center piece pewter bead, wrapped around with soft flexible wire.
Golden or silver tone center with your choice of wire color: silver, black or golden tone. Original wrapped wire design, about 13-15 mm (0.40 inch) diameter on both sides.
The wire used to make the Wire Wrapped Celtic Knot Clipon Earrings bends enough that you can customize the part that wraps around your ear lobe.
Made as a FASHION STATEMENT for people with no ear lobe piercings.
Could be used for post operative keloids surgery for light pressure. (Please, consult your doctor).
Enjoy the fashion effect of real ear piercing without the pain or permanence of a real piercing.
Works for most earlobe shapes and sizes. Cute and discreet and can be worn by males or females. Light weight and comfortable.
Celtic Knot Clipon Earrings are designed and made by Earlums.
Perfect gift for you or your loved ones.
IMPORTANT NOTE for placement:
Please, make sure that your ears are free of lotions or greasy products.
Earrings have no pressure to them, on their own. Because of how it's made and the type of wire we used to make them, the earrings should be nice and comfy. You will be able to adjust the earring by unwinding the spirals to cover the front and back of your ear. Once you place it in the right spot twist pressure the discs to tighten them on the  ear lobe.
There is no soldering, no gluing, no screws, no welding or mechanisms to hold them on the ear. Earrings will only put pressure on the ear lobes by twist/pressing the spiral discs really hard with your fingers, for optimal tightness. More twisting/pressure applied, better retention.
Use paper clip principle/technique, to place them on your ears, and then squeeze/slide to close tightly.
Don't worry,….. the wire is pretty sturdy and won't break.
Disclaimer:
Content on this listing is for reference purposes and is not intended to substitute for advice given by a physician, pharmacist, or other licensed health-care professional. Fit and comfort will vary depending on ear lobe size, shape, wear, and dexterity on placing them on. Not suitable for small children.
Earlums.com, neither assume nor accepts any liability for damages resulting from the handling or use our clip-on earrings.
Check our our FAQ.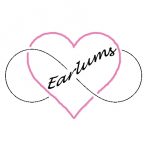 © All designs, photographs, description and content are the exclusive property of Earlums.com and are under Copyright Protection© 2009-2017