Have questions?
Here are some common answers
What are Earlums?
Handmade Ear jewelry that is form fitted to stay put and hug the ear in a way that will give the illusion of multiple piercings. They are a nice alternative for people whose ears are not pierced, but still want to wear jewelry on their ears.
How long does it take for an order to ship out?
We ship the orders out M-F within 24hours of ordering, sometimes sooner.
Why is the international shipping so expensive?
As of January 2016, USPS dramatically increased their international shipping prices. Sadly, there is nothing that US sellers can do about these charges but pass them onto their customers.
Just wondering if the pressure earrings come as a pair or are they sold individually?
All our pressure earrings come in pairs. It's usually stated in the title or in the product description. Only one model offered on our site gives the option of purchasing one single earring. This option was made for people that have lost one of the earrings or they just need to check out if that's what they need.
Do you think I might be allergic? I think the magnets make my ears itch and after a day of wearing I got a little scab on my earlobe. Is there anything I can put on the magnets to make that not happen?
We're not medical professionals. Please, ask your doctor if they can pinpoint the issue (if it is allergy or it's too much pressure?). They are the only ones that can truly answer this questions. We've learned from past customers that had similar issues that using some BandAid padding on the lobe before putting the magnetic earrings on helps with easing the pain. People that are allergic to nickel and they need the strong pressure are placing cotton gauze on the lobes first and then wear the magnetic earrings on top of it, making sure that magnets do not directly touch the skin. They do this before they go to bed. Then during the day wile in public, they use the wire wrapped earrings to conceal and keep the light constant pressure on the lobe. Hope this helps 🙂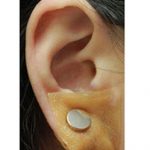 This is not going to apply enough pressure to my daughters ears. It doesn't seem strong.
The earrings DO NOT apply any pressure on the lobe by themselves. You will need to use your finger and thumb to place and pressure them. See the photo.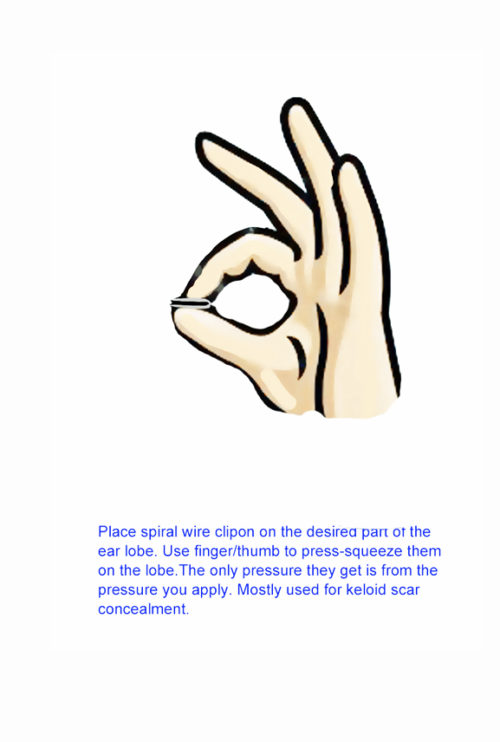 Are the keloid handmade earrings applying any pressure on the lobe?
Yes and No, they do not have any pressure or retention, on their own. The pressure is applied by finger/thumb pressure. After they are placed on the desired part of the ear lobe, a strong squeeze will tighten them in place. They are made to conceal and keep light pressure on the keloid scars.
What are your recommendations in regards to the type of earrings I should get?
We are not medical professionals and we can't recommend or advise buyers on the type of earring they should get. We strongly encourage shoppers to consult their medical professionals for advise and suggestions.
Which keloid earrings are better; the handmade ones or the magnetic ones??
Many customers are purchasing one of each. They will wear the handmade ones during the day/night to hide/conceal the scars. They use the magnetic ones sparingly seeing as they become uncomfortable after prolonged wear. They keep them on intermittently; 10-15 min ON, then OFF for a few hours, then repeat it a few times during the day/night, as prescribed by their doctor. This combination insures nice steady pressure to the affected area, making it harder for the keloid to reoccur.
How do you adjust the size of the wire wrapped earrings? Are you supposed to unwire one side and rewire it to make it bigger? I am just curious to make the front size bigger.
You will need to unwind one side and then rewind the other tightly. This way you will have one side larger than the other. Know that after this alteration to the earrings they will only serve as concealment with very little pressure to the affected area.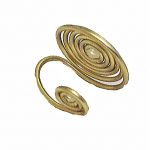 Why are the magnetic earrings are so painful and uncomfortable?
Because they are very strong! They are pressure earrings. Once you have them on the lobe, the pressure would be instant. Everyones lobe thickness and pain threshold varies.. After a short period of wearing them they start becoming painfully uncomfortable. They need to be taken off and let the lobe relax, then they could be worn again on and off as needed. After a while the lobe gets accustomed to the pressure and it will feel better.
I have a small to medium sized keloid on my cartilage. I'm not looking to get surgery done so was wondering if your earrings would be able to help reduce the size of my keloid?
We do not know! We are not medical professionals. Please read the reviews left on most of the earrings and judge for yourself. For some people our earrings are a godsend and for some, not so much. Also take the time to read our FAQ section entirely, as you might find more helpful answers.
How do I know what size of keloid earrings, I need?
You will need to ask your medical provider for the right size. We offer many choices. The smallest is approx 0.8mm (compare to pencil HB#2 circumference) and the largest is 1 inch.
What if I need to make a return?
How do I wear an Earlum Ear Cuff Wrap?
First, in front of a mirror you'll need to tuck your hair behind your ear to expose your ear. After that, place the Earlum on the middle part of the ear and gently squeeze it until you feel it snug on the ear. Do not squeeze too much or it will become painful after prolonged wear!
Second, you need to test the fit by gently pulling the ear cuff up, down, and away from your ear to make sure it doesn't slip off. If you can't do that then it is probably closed too tight and it will hurt your ear after a while. If this is the case, release the back of the Earlum very slightly. If is too loose pinch it close a little more.
Lastly, they should stay put, not too tight that they pinch or dig into your ear, not to loose that they will come off and get lost. They can be adjusted slightly by carefully and gently bending them to make them a little larger or smaller. Don't worry, they are pretty sturdy and won't break easy. Please watch our video demo.

Why don't you ship to India?
Due to poor delivery rate, Earlums will not ship orders to INDIA. All orders will be cancelled as soon as received. We're sorry for this inconvenience. Feel free to have someone in the US make the purchase for you and then send it via a person or a different shipping method known by them that will insure the delivery to India.
Are Earlums suitable for everyone?
Mostly everyone, with a few exceptions regarding ear size and ear anatomy.
Not recommended on ears with no helix ridge.
Not recommended for children under 13.
Hi i ordered 9 months ago a silver pair of the clip-on earrings and i already lost them due to wearing them out a lot. Would it be ok if i could get a replacement pair please?
Earlums is not responsible for customer misuse and loss after receiving and using our earrings. If you would lose a pair of RayBan sunglasses would you contact the manufacturer, holding them responsible and ask for a replacement? Most likely, not.
How do I care for my Earlums jewelry?
Earlums should be treated as carefully as any other jewelry, stored in a safe, roomy spot and cleaned when needed. Depending on the material, you can use a standard jewelry cleaner when needed. Unlike earrings that insert into a piercing, Earlums stay on the outside of your ear. Those with intricate wires or delicate chains should be handled with extra care and all should be carefully avoided when pulling clothing over your head. Ear cuffs should be removed before applying lotions / make-up, showering, sleeping, swimming and other sports activities so they do not get knocked off, hooked on anything or lost. When possible, store jewelry in its original packaging. This way you'll insure that your jewelry will keep its brightness for a long time.
What kind of metal / wire does Earlums use?
We prefer to use the tarnish resistant 20 ga wire for the ear cuff/wraps because it's soft, malleable and inexpensive, helping us to keep the prices low. However, we offer many other options of semi precious and precious wire (Argentium, .925 Sterling Silver, 14K Gold Filled). For keloid earrings, colored anodized aluminum wire and precious wire if stated in the product description.
What is the difference between metals? All about the metals…
Tarnish resistant or Artistic wire is a high quality craft wire. It is soft, permanently colored copper wire in gold/silver or various color plated. Top quality wire .925 Sterling Silver Wire it is a combination of 92.5% pure silver and 7.5% of other metals such as copper. A higher percentage of pure silver would be too soft for successfully producing an object and the copper serves as a strengthening substance. (Unfortunately even at .925 or no matter what purity nothing will stop silver from tarnishing. As soon as silver is exposed to the air and moisture, it causes a chemical reaction that creates what's called silver sulfate and this causes the black marks on the silver piece and often on your hands if you touch it.) 14K GF or 14/20 gold-filled wire is created by taking a sheet of 14 KT. gold and bonding it through extreme heat and pressure to a core of semi-precious metal. (Should not be mistaken for GOLD PLATING. This wire does not tarnish).
What is 14K GF metal / wire?
14/20 (14K) gold-filled metals are created by taking a sheet of 14 K gold and bonding it through extreme heat and pressure to a core of semi-precious metal. (This should not be mistaken for GOLD PLATING).
Does an Earlum fit on the right or left ear?
Unlike most ear cuff/ wraps on the market, Earlums are bilateral, meaning that they can be worn on either ear, left of right.
Why are Earlums sold as single?
Most of people like to wear them on one ear only, preferably on the ear that's not used for talking on the phone. Touching your ear with the phone while wearing them would make it uncomfortable. If you prefer a pair, please purchase 2.
Are Earlums easy to bend or fit? Can I adjust it to fit my ear?
The wire we use is a soft metal, pliable yet durable. You can simply adjust the piece with your fingers, not only the width of the cuff, but also the angle or length to what feels and looks best to you! Also, because the rounded edges of the cuff portion of the Earlum, it can safely be opened and closed for your comfort and security.
Can I get a custom design or combination?
Yes. You can! Simply, contact our customer service with your request for custom orders and we'll make sure to help out in designing and making your dream come true.
Why should I get Earlums?
The Earlums fit comfortably without piercing, stays put and, and most of all, looks beautiful. They come in a large range of styles / colors, can be worn by themselves or with other complementing earrings, making a striking statement of unique beauty.
Do you sell wholesale?
No, not yet! We are crafting each order by hand and it is really hard to have big quantities on hand. We are working in licensing our product to a manufacturer and have it mass-produced. Unfortunately we do not know when it will happen.
Can I find your product in any retail stores, boutiques or gift shops?
NOPE, you can only get them from our Earlums.com store. (see About page). However, we sell a lot of our products in our online stores on Amazon, EBay and Etsy.
Are all your products handmade?
All our Earlums ear cuffs and wraps are handcrafted(you'll find it in the product description).
Some of our products are bought from wholesale quality vendors and resold in our store.
We assemble the chained earrings (studs, hooks, lever back, clip-on) with quality findings/charms, purchased from USA vendors and manufacturers. Some of our products (you'll find it in the product description) are bought from wholesale quality vendors and resold in our store.
What happens when your shop is on vacation?
All our online stores( Amazon/Earlums, Etsy/Earlums, eBay/Earlums will be closed/deactivated temporarily. Only our own site Earlums.com will be open. Orders placed during vacation time will be shipped out on the date posted on the cart page.
Do any of your products contain lead?
We are making sure that all the supply we purchase from various vendors, are quality products, lead, nickel and cadmium free.
Why don't you offer telephone support?
Providing support over the telephone is very expensive. Online support (emails) helps us keep detailed records about your issue in one place. We understand that some people prefer phone support. Sometimes you just want to talk to a real person. We get it!. However, you can rest assured that we are actual human beings who will help answering your question/issues, via email. We prefer to concentrate on the SEEING and DOING rather than the hearing. :):) So, no phone support? No panic! We're still here to help you! contact our direct customer service email.
Also visit our INSTRUCTIONS page.
Not found the answer?
feel free to contact our customer service for free support