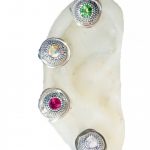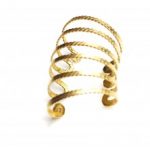 No one rocks an edgy look like you! Find cool, fashionable, unique handmade ear cuffs, helix cuffs, ear clips earrings and ear cuffs with chains at Earlums.  Shop our collection of awesome ear cuff jewelry and rock out.
Unique ear cuffs, wraps, simple earrings, multiple piercings earrings, helix cuffs, compression earrings.
Ear Clips, Pierceless ear cuff jewelry made with  gold, silver, pearls, crystals, beads, necklaces. Gift sets and more… Purchase with confidence!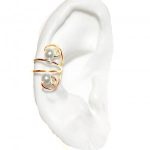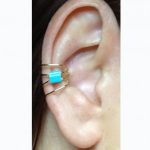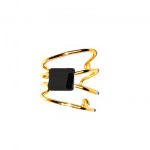 The ear clips or  ear cuff wraps  are  pretty common, these days. They wrap around the edge of the ear cartilage and rest just above the earlobe. Since they do not pierce or penetrate the body, there is less concern about allergic reactions.This type of Ear cuff Jewelry does not require any piercing making you want to choose widely from the variety of the designs. You can pair it with small stud earrings or you can wear it with no earrings at all. Wear the ear cuff one at a time since wearing two would overkill your statement. Although earcuff designs vary, they all have the same way of wearing them. See our Video Tutorial for instructions. Ear cuffs can be worn on one ear or both. They come in many different styles. Here at Earlums  is the place where you can get the one that suits your style. Many celebrities wear ear cuffs as a statement jewelry.
Why not you? In fact there were plenty of other celebrities wearing ear cuffs in this past year.
Amazing, unique and original handmade ear cuff wraps jewelry. Visit our shop.
Stylish ear cuff  jewelry for those women  and men without pierced ears, although those people with pierced ears can also wear this fabulous ear clips.
Our customers are amazing and we love the reviews, testimonials, emails, and the comments we get on our Earlums.com website, Amazon, Etsy and  Facebook. People tell us they have never seen this type of  ear cuff jewelry and now that they found us they are getting hooked. We work hard to offer new styles and change things up a bit every year. Thank you all for visiting!
We ship within 24 hours M-F, Worldwide!