Extra Large Magnetic Pressure Earrings, for people with no piercings. Can be used for ear lobe keloid pressure (consult your doctor).
If you have nickel allergies, magnetic pressure earrings are not an option for you!!!
Finally we found the strongest  magnets, in various sizes and shapes and  we are adding them to our pressure clip-on compression earring collection.
Many people have been battling with ear keloid problems for years. Surgery and post operative devices/earrings usually help keeping the keloids under control.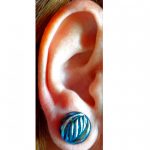 For many people wearing the doctor-dermatologist recommended devices, was/is an embarrassing time. Not anymore!….Now, we have added a few Extra Large Magnetic Pressure Earrings options. Cute, more attractive, strong and comfortable. Try one pair today! If you need a custom size/order, please, contact us here: customerservice@earlums.com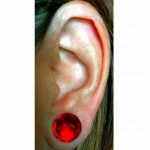 Also, they might help with weight loss.
Their design draws from principles of acupressure. By gently squeezing the earlobes over time, cravings for food supposedly decrease.
DISCLAIMER:
Content on this page, is for reference purposes and is not intended to substitute for advice given by a physician, pharmacist, or other licensed health-care professional.
ABOUT  MAGNETS:

They contain a lot iron and other metals: samarium, cobalt, nickel, neodymium, dysprosium.
All metal comes from the ground.
This magnets are formed by powder metallurgical methods. 
Their mechanical properties more closely resemble a CERAMIC, rather than a metal.
They are hard and brittle and may chip or break if dropped.
Despite the metallic appearance of their nickel plating, they are not strong as steel.
If subjected to sharp impacts, such as allowing them to slam into one another, they can easily crack or break. 
Care and proper handling are important.
WARNING:
1. Hard crushing would cause damage and cracks in the magnetic material.
2. People with a pacemaker should not wear magnetic jewelry!
3. Pregnant women should consult a physician before wearing magnetic items.
4. Not recommended for children.