Description
Plain Wire
Ear Cuff Jewelry.
Plain, simple and different! Entirely hand worked, each Earlum is a unique and original bilateral piece. It could be worn on the left or right ear.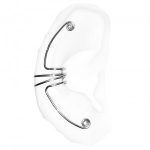 Usually worn as singles, if you would like a pair, please order 2. Light weight and comfortable, this ear cuff is an exquisite piece of jewelry, at a reasonable price.
It will make a special gift for you, or that special person in your life. There is a new fashion trend, that will have this ear cuff classified as an simple awesome accessory.
Patented design, handmade in the USA, with passion and uniqueness.