Description
Barbed Wire Choker Necklace Handmade in USA by Earlums
16″ Handmade Barbed Wire Choker Necklace, made with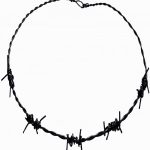 anodized aluminum wire. 16″ Handmade necklace made with real wire. Looks like the real deal!! The wire we use is dark brown aluminum that is really soft (spikes are filed gently) and it conforms to your preferred contour. If you think that you'll get hurt with it, think again.
The wire is so soft and bends really easily but if it starts poking you, you can just bend it away from your neck slightly.
Our Barbed Wire Choker Necklace is preferably worn with short hair or with your hair up, because it could get tangled in your hair.
It will make a special gift for you, or that special person in your life. There is a new fashion trend, that will have this Barbed Wire Choker Necklace classified as an awesome accessory. It will arrive in a ready-to-give, gift box. Fashionable, classic & trendy necklace/choker.
Not your ordinary necklace, this piece would get a lot of attention, its simply beautiful. Looks very real! Get it here or on Amazon.com!
Wear one and see how many compliments you'll get. You'll fall in-love with this one!
Before purchasing, please keep in mind, that these items are handmade and they might look a little uneven with minor scuffs and marks due to handcrafting.
Handmade jewelry shouldn't be perfect and flawless like it was mass-produced.
Each piece that we make is a unique original handcrafted piece, that will bring you lots of attention. They are not made for continuous use, and if you're not familiar with it, might be a little challenging to wear one.
Due to the difference between different monitors, the the actual color of the item might be slightly different.
Handcrafted in the USA, with passion and uniqueness.
© All designs, photographs, description and content are the exclusive property of Earlums.com and are under Copyright Protection© 2009-2020