Description
Best Chapped Lip Balm – Natural Lip Balm Remedy – Chocolate Mint Flavor – Made in USA by Curealia.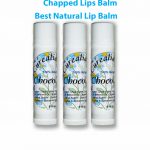 If you find yourself suffering from exceptionally dry, sore and chapped lips, a soothing lip balm is a must.
There is no feeling as refreshing as the first moments after you apply a layer of our Best Chapped Lip Balm, especially when the weather turns colder and the air begins to dry out.
This is an original lip balm, that softens and protects your lips everyday. Keep your lips nourished and moisturized with our great product.
Chapped or dry lips are a common problem (more than 3 million US cases per year ), that can be painful and unattractive.
Common symptoms are dryness, redness, cracking, flaking, and tender or sore lips.
Main causes are vitamin deficiency, allergic reaction, dehydration, smoking, excessive licking of lips, sun exposure and harsh weather.
There are many commercial products available to treat chapped lips. However,  you need to try our product and see how easily you can get relief with our Best Chapped Lip Balm.
Best Chapped Lip Balm is and excellent moisturizer and offers cold weather protection. Made with 100% active natural ingredients.
Formulated with a blend of most effective moisturizers for your lips, plus a wonderful natural chocolate extract with a hint of spearmint.
Can be used as lip gloss…tastes great too :):). Nourish your lips and feel confident, it's pure clean natural & organic.
Best Chapped Lip Balm has All Natural Ingredients – no additives, no chemicals, no alcohol, no petroleum or unknown artificial ingredients / flavors.
Best use: all day, everyday, or as necessary. Keep it in your purse but not in the sun.
Nurturing, healing, regenerating, protecting moisturizer for every day beauty. The most awesome chapped lips, remedy!
Chapped Lips balm can also be found on Amazon and Curealia's, online stores.
© All designs, photographs, description and content are the exclusive property of Earlums.com and are under Copyright Protection© 2009-2015