Description
Cartilage Ear Cuff Wrap
LARA – Clip on Pierceless Ear Jewelry Handmade in USA by Earlums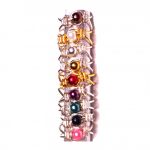 No piercings needed!
Single, Pierceless Cartilage Ear Cuff Wrap for Non Pierced Ears. Handmade in USA by Earlums with Silver or Gold Tone tarnish resistant artistic wire and one, 4mm faux pearl, or metal bead. Choose your favorite wire and color from the drop down menu: white, pink, brown, silver, red, purple, teal and black.
Due to the difference between different monitors, the the actual color of the item might be slightly different.
Please note that we placed the bead off-center purposely for a better display on the ear.
Sold and worn as single, if you'd like a pair, please order 2.
This cartilage Ear Cuff Wrap is a simple, unique styling and flexible ear cuff, clip on earring, measures approx. 0.5 inch length x .25inch width x .5 inch high.
Bilateral, could be worn on Left or Right Ear.
Fashionable, Glamorous and comfortable. New embellished Cartilage Ear Cuff trend, taking the celebrity world by storm. :):)
Wraps around the edge of the ear cartilage and rest just above the earlobe.
There is no soldering, no gluing, and no welding on Lara Ear Cuff Wrap. Each piece is wire wrapped by hand and designed for that one-of-a-kind look. Get one for yourself, or for someone you care!
They are not made for continuous use, and if you're not familiar with ear cuffs it might be a little challenging to adjust and wear one.
Since they do not pierce or penetrate the body, there is less concern about allergic reactions.
Enjoy all the compliments you'll get wearing this simple, cute, and inexpensive ear cuff.
Thank you for visiting our Earlums store.
Also sold on Etsy!
© All designs, photographs, description and content are the exclusive property of Earlums.com and are under Copyright Protection© 2009-2015