Description
12mm Colorful Earrings for Earlobe Keloid Scar Concealment
Buy a pair or a bundle and SAVE  $$$$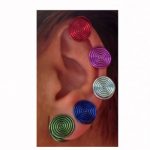 The most popular earrings are now available in colorful pairs and/or bundles.
Buy 12 pairs and save ($12.00 pair)
Buy 10 pairs and save ($12.50 pair)
 Buy 6 pairs and save ($12.66 pair)
 Buy 3 pairs and save ($13.33 pair)
 Buy 1 pair (14.99)
 Purchase a bundle ONLY after you have tried and used our earrings. It's an awesome deal if you are familiar with them.
NO RETURNS OR REFUNDS FOR BUNLE PACKAGES (please, make your purchase wisely)
There is a new fashion trend, that will have this Colorful Earrings for Earlobe Keloid classified as an awesome ouch-less  ear accessory.
No piercing is required. Made to order  for people with or without piercings.
Original design, about 12mm (.048 inch) diameter on both sides, back and front. Each pair is individually handcrafted. :):)
Handmade in USA by Earlums with lots of color choices. Pick your favorite pair or choose them all.
12 available colors: Black, Silver Tone, Golden Tone, Pink, Hot Pink, Light Blue, Green, Light Copper, Dark Copper, Royal Blue, Purple, Turquoise.
When you are buying the bundle, write in the note to seller at checkout, your preferred colors for your bundle. If not specified we'll mail out the pictured choices.
 ALL SALES ARE FINAL FOR BUNDLE PURCHASES!
This pair of 12mm Colorful Earrings for Earlobe Keloid will provide even pressure on your ear lobes. Comfortable when properly adjusted. The wire used to make them bends enough that you can customize the part that wraps around your ear lobe. Sturdy enough that you should not be concerned with them breaking or falling off.
Could be used for post operative keloids surgery (please, consult your doctor).
Our12mm Colorful Earrings for Earlobe Keloid are cute, and discreet and can be worn by males or females. Light weight, comfortable and easy to adjust.
Designed by Earlums to add a little style and color to your ears.
 IMPORTANT NOTE for placement:
Please, make sure that your ears are free of lotions or greasy products. Use paper clip principle/technique to place them on your ears, and then squeeze/twist to close them tightly. Our earrings, have no pressure to them, on their own. The more twist/pressure applied, the better retention.
There is no soldering, no gluing, no screws, no welding or mechanisms to hold them on the ear. Earring retention on the ear depends only on your placement and pressure.
Enjoy the fashion effect of real ear piercing without the pain or permanence of a real piercing.
It will make a special gift for you, or that special person in your life.
Nice addition to your everyday look. Give it to your sister, mother, best friend or yourself.
Simple, unique and elegant look!
© All designs, photographs, description and content are the exclusive property of Earlums.com and are under Copyright Protection© 2009-2022