Description
Curvy Design Toe Ring Blue Crystals
BEST ONLINE PRICE!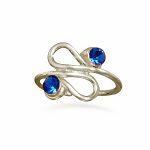 Curvy Design Toe Ring Blue Crystals. Love blue? Show off your pedicure this season with this Polished sterling silver curvy design toe ring with two 3mm blue crystals. Adjusts to fit most toes. Made with .925 Sterling Silver. Get yours today!
Summer is here so lets show off our toes with this pretty collection of toe rings, which fits most sizes as can be adjusted.
Toe rings are designed in a variety of styles to make a fashion statement and to give versatility to your jewelry collection.
A toe ring, is a ring made out of various precious and non-precious metals worn on any of the toes. The second toe of either foot is where they are worn most commonly. Toe Rings are the essential accessory for any summer wardrobe, which is why Earlums.com offers many styles of silver/gold toe rings…
Our fun collection of this season's hottest toe rings are sure to wow.
Most of our toe rings are comfortable, fit almost any size toe, and can be adjusted.
Curvy Design Toe Ring Blue Crystals has a sleek, comfortable design. Can be worn by itself or with any other toe ring from our Earlums shop in the Toe Ring category.
Toe Rings look great with sandals, flip-flops and anklets. Our toe ring variety, make any toe and  foot, look fun!
Many of our toe rings could be used as a stylish pinky ring, midi ring, or even as an ear cuff.
May be worn to special occasions or as an everyday accessory.
Curvy Design Toe Ring Blue Crystals is the perfect gift for anyone, on any occasion. Your choice.
Imported sold by Earlums
© All designs, photographs, description and content are the exclusive property of Earlums.com and are under Copyright Protection© 2009-2014