Description
Ear Cuff Wrap Ear clip with  Pearls and Rhinestones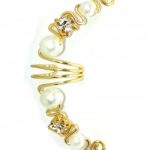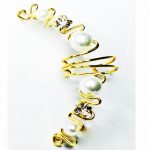 Single, handmade  pierce less ear cuff  with silver/golden wire, white colored 6-4 mm faux-pearls and sparkly  rhinestones.
Our ear cuff/wraps are not made for continuous use. If you're not familiar with ear wraps/cuffs it might be a little challenging to adjust and wear one. Made with white faux pearls, rhinestones and your choice of wire.
Unique, bilateral, piece of jewelry, at a reasonable price. Wear it  as you please! Embellish your ears with Vanessa Ear Cuff Wrap Ear Clip! No piercings needed! Add a little touch of flair to your outfit with this bilateral ear cuff by Earlums.
Unique original handcrafted piece that will bring you lots of attention.
There is no soldering, no gluing, and no welding.  All our handmade ear cuffs don't require any ear piercing.
Could be worn on either ear.  This ear cuff wrap ear clip, for non pierced or pierced ears, should fit the average ear.
Vanessa Ear Cuff Wrap
To test the fit try it on and pull it sideways.  A good fit will not pinch hurt or slip off easily.
Please, keep in mind that every ear cuff wrap, will fit slightly differently and every ear anatomy is different.
Usually worn as singles , if you like a pair please, order 2.
Original design, patented, handcrafted with domestic and imported findings.
Gold or silver tone, wire. Get the one you like! Lots of sparkles from this ear cuff.
It will make a special gift for you, or that special person in your life.
Enjoy the compliments!
Made in USA by Earlums