Description
Healing Stones
– Turquoise Howlite Set Argentium Silver
with Turquoise Howlite –Necklace and Earrings.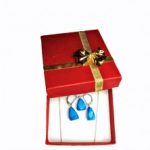 This is OOAK (one of a kind) necklace and earrings set, healing stones jewelry set, made by Earlums.
18" Argentium Silver Necklace and leverback earrings with tumbled polished dyed howlite charms, healing stones. These tumbled polished dyed howlite gemstones have a baroque irregular shape. Each stone is a unique shape and will range in size anywhere from 12mm up to 20mm in dimension. Please be aware of slight variations in size, shape and color.
***Promoting: Peace, Patience, Turbulent Emotions, Insomnia, Aligning The Chakras.***
Comes wonderfully boxed as pictured so you can give it as a gift – or enjoy opening it as a gift yourself!
Made in USA with American made Argentium Silver  🙂