Description
Hollow Star – Multiple piercings earrings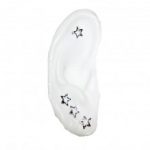 Have multiple cartilage piercings?
Then, this Sterling Silver earring set of 4 (four) is the perfect accessory for you! This year is all about having fun and living every moment to the fullest! Why not always feel cute and look your best by accessorizing with our affordable and cute new jewelry. There is a new fashion trend, that will have this earring set classified as an awesome accessory. Light weight and comfortable this stud earring set, will give you an exquisite look at a reasonable price. It will make a special gift for you, or that special person in your life.
.925 Sterling Silver Tiny Hollow Star Stud Earring set of 4.
Dimensions: Height: 6mm.  Post and ear nut are also sterling silver.
Tiny and cute! Mix and match, wear as you please!
Perfect accessory for that person who wants to stand out in a crowd and have heads turning at their fabulous unique ear jewelry!
IMPORTED  Sold By Earlums