Description
Keloid Clipon
Keloid Clipon Earrings sold in Pairs
Handmade in USA by Earlums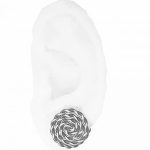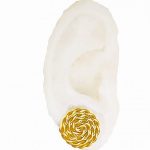 Made to order, with your choice of nontarnishable soft permanently colored, anodized tarnish resistant, wire.
 Choose your favorite  twisted wire color combination. Black, silver, golden or copper tone.
Four sizes of Clip-on Compression Pressure Earrings. Choose yours: 10mm, 12mm, 15mm and 18mm.
Another original twisted wire design, handmade in USA by Earlums.
Equal size diameter on both sides, back and front.
Our Keloid Clipon pressure earrings have been designed as a fashion statement for unpierced ear lobes.
The earrings are cute and discreet and can be worn by males or females during the day, or for night sleeping if needed.
Ouchless, lightweight and comfortable, works for a large variety of earlobe shapes and sizes. Adjust the tightness of each earring by twist/squeezing them, for optimal pressure and comfort. No soldering, no gluing, and no welding.
Each piece is individually handcrafted so slight differences in size and shapes, is to be expected.
NOTE:
The Keloid Clipon Earrings have no pressure to them on their own.
Please, make sure that your ears are free of lotions or greasy products.
Because of how it's made and the type of wire used, you will be able to adjust the earring by unwinding the spiral discs to cover the front and back of your ear.
Once you place it in the right spot twist/pressure the discs to tighten them on the ear lobe.
Our Keloid Clipon Earrings will only put pressure on the ear lobes by twist/pressing the spiral discs with your fingers, for optimal tightness. The more twisting/pressure applied, the better retention.
Use paper clip principle/technique, to place them on your ears, and then squeeze/slide to close tightly.
Don't worry,….. the wire is pretty flexible/sturdy and shoulnd't break.
Handmade in USA by Earlums
The perfect gift for you or your loved ones.
We sell them on Etsy, eBay and Amazon.com
"Keloids – Pressure earrings, massage and surgery, can help with treating earlobe keloids.
 Early medical attention and knowledge of the different options  are available to help treat the keloids." Recommended to consult with your dermatologist/doctor to see if our clip on earrings will work for you.
© All designs, photographs, description and content are the exclusive property of Earlums.com and are under Copyright Protection© 2009-2022