Description
Keloid Pressure Earrings Golden Tone
Keloid Pressure Earrings Golden Tone Magnetic Pairs: 6mm 8mm 10mm 12mm 15mm 19mm 21mm 25mm
Painfully Strong! Great for keloid pressure compression or as fake ear plugs/gauges.
You will receive a pair of magnetic earrings as follows: 4 gold tone coated , strong, magnetic discs (1pair).
The layer of coating give the magnets, more superior cracking and chipping resistance.😀
Consult your medical professional for advice before purchasing!
Keloid Magnetic Pressure Earrings
You'll love this earrings!!
Our newest Keloid Pressure Earrings Gold Tone, are the perfect accessory for a person looking for non-pierced alternative.
We just added up more size options!
6 x 1.5mm
8 x 1.5mm
10 x 1.5mm
12 x 1.5mm
15 x 1.5mm
19 x 1.5mm
21 x 1.5mm
25 x1.5mm
Even size, diameter round gold tone magnetic discs.
1.5mm (1/16inch) thick, thickness of a penny.
The fashion effect of gauge ear plugs without the pain or permanence of a real piercing.
If you would like a reversible pair Click Here! 
Delicate like GLASS.  They break  really easy if you're not careful. May chip or break if dropped. Do not  subjected them to sharp impacts, such as allowing them to slam into one another.  Care and proper handling is very important!
 Magnetic Keloid Pressure Earrings in many sizes!
Painfully Strong!
It takes a little bit of wearing to get used to how strong they are. First time they should be worn for about 10-15 minutes. Take them off for a few minutes. Let the blood flow back into your ear, and put them back on. If they irritate your ears, discontinue using them, immediately.
These earrings offer great constant pressure and look awesome on the ear.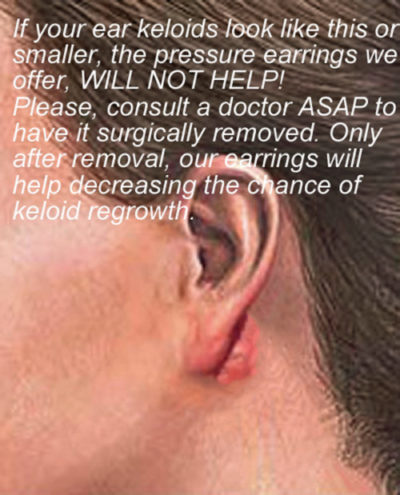 Find some of our products on Earlums/Etsy store.
© All designs, photographs, description and content are the exclusive property of Earlums.com and are under Copyright Protection© 2009-2022