Description
Lisa Compression Pressure Clip-on Earrings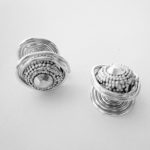 Silver tone center piece with colored sparkly rhinestone, wire wrapped in silver tone wire. ( approx.12-14mm). Choose your favorite color: Pink, Aurora Borealis, Green and Blue. Light weight this compression earring set has been designed to provide uniform pressure over the earlobes and at the same time add a little style to your ears without discomfort. Works for a variety of earlobe shapes and sizes.
Adjust the tightness of each earring by squeezing them tightly for optimal pressure and comfort. The tighter the squeeze the better they'll stay put. Tarnish resistant anodized aluminum silver tone wire. Bends enough that you can customize the part that wraps around your ear lobe. Sturdy enough that you should not be concerned with them falling off or breaking easily.
Lisa Compression Pressure Clip-on Earrings could be used as a FASHION STATEMENT or for post operative keloids surgery (consult your doctor).
NOTE: The earrings have no pressure to them on their own. There is no soldering, no gluing, no screws, no welding or mechanisms to hold them on the ear. They will only put pressure on the ear lobes by pressing the spiral disc with your fingers really hard, for tightness. The more pressure applied the better retention.
You can buy pressure earrings for keloids from a few companies online in many different styles and shapes. Try our Earlums clip on earrings and you'll see the difference. They are as unique as you are. Lisa Compression Pressure Clip-on Earrings, are individually handcrafted with passion and uniqueness. Each piece is individually made, so slight differences in size and shapes, is to be expected.
The perfect gift for you or your loved ones.
"Keloids – Pressure earrings, massage and surgery, can help with treating earlobe keloids.
 Early medical attention and knowledge of the different options are available to help treat the keloids."
Recommended to consult with your dermatologist/doctor to see if our clip on earrings will work for you.
© All designs, photographs, description and content are the exclusive property of Earlums.com and are under Copyright Protection© 2009-2018