Description
 Raza Earrings Chained to Ear Cuff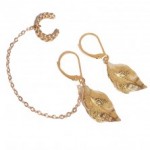 fashionable, unique, leverback gold filled  or sterling silver earrings chained to beautifully handcrafted  gold filled or sterling silver ear cuff. Crafted by Earlums in a unique design that is cute and different!
The ear cuff is slightly hand hammered, soft and easily bendable which helps accommodate your ear comfortably. Chained to leverback earrings with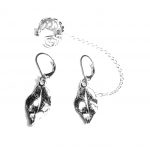 attached  golden brass  or silver leaf charms.
If its not big enough to fit the middle part of the ear, then it could be used as an upper Helix ear cuff. Really unique and different! It will make a special gift for you, or that special person in your life. There is a new fashion trend, that will have this chained earring set  classified as an awesome accessory. Get it for yourself or someone you care.
The gold filled set, has golden brass leafs  and the silver set has sterling silver leafs about 1 inch long. Really bright , unique and different!
Chain is about 2.5 inches long. There is no soldering, no gluing, and no welding.  Each piece is individually handcrafted with quality materials.
All our handmade jewelry is amazing, unique and unusual. You'll love how the chain and charms, perfectly dangles on the ear and how this unique set will add glamor to your looks. Light weight and comfortable, this handmade ear cuff with chained leverback earrings are a nice addition to your ear jewelry at a reasonable price.
Perfect set for slave, boho, chic, hippie, indie, gypsy or tribal style.
Handcrafted in the USA by Earlums