Description
Small Pressure Earrings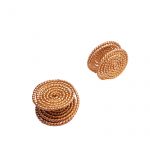 One Pair Yellow Gold-Filled or Sterling Silver Twist Wire Clip-on's Handmade in USA
Original, handmade design, about 10-12mm (0.39-.048 inch) diameter on both sides, back and front
NOTE:
The Sterling silver or the gold filled wire wrapped earrings, do not have a very good retention on the lobe, due to the content of the wire. The flexibility of the precious wire (sterling or gold filled), is not as pliable and easy molding as the anodized aluminum wire we usually use to make our earrings. Therefore keeping them on the ear lobe, can be a bit more difficult.
This pair of clip-on earrings has been designed to provide uniform pressure over the earlobes without discomfort. The twist wire used, bends enough that you can customize the part that wraps around your ear lobe. Sturdy enough that you should not be concerned with them falling off.
Made as a FASHION STATEMENT for people with no ear lobe piercings. On some cases, could be used for post operative keloids surgery (consult your doctor/dermatologist). This small pressure earrings pair is cute, and discreet and can be worn by males or females. Light weight and comfortable.
PLEASE READ THE ENTIRE DESCRIPTION OF THIS PRODUCT BEFORE ORDERING:
Mainly used for concealment purposes. On many cases this type of earring might apply the necessary pressure for even compression. Depending on your ear lobe size and shape, the fit and feel of this type of earring will vary. Please understand, that is not going to work for everybody. Should be worn with an up do or short hair, and taken off for vigorous activities. Results varies from case to case. We understand if this earring is not what you expected. If its not working for you, or is not to your liking, please, return it to us immediately for a full refund. 
Designed by Earlums to add a little style to your ears.
Perfect gift for you or your loved ones.
IMPORTANT NOTE for placement:
Please, make sure that your ears are free of lotions or greasy products.
IMPORTANT:
The small pressure earrings have no pressure to them, on their own. Because of how it's made and the type of wire we used, you will be able to adjust the earring by unwinding the spirals to cover the front and back of your ear. Once you place it in the right spot twist pressure the discs to tighten them on the ear lobe.
There is no soldering, no gluing, no screws, no welding or mechanisms to hold them on the ear. They will only put pressure on the ear lobes by twist/pressing the spiral discs really hard with your fingers, for optimal tightness. The more twisting/pressure applied, the better retention. Use paper clip principle/technique, to place them on your ears, and then squeeze/slide to close tightly. Don't worry,….. the wire is pretty sturdy and won't break.
NOTE:
This quality 14/20 Gold-Filled/Sterling Silver wire patterned with a twist, is manufactured in USA, and performs really well when you need to bend the wire around ear lobes.
We have them on our Etsy/Earlums store.
© All designs, photographs, description and content are the exclusive property of Earlums.com and are under Copyright Protection© 2009-2020