Description
Tattoo Aftercare Natural Healing Balm 1 oz.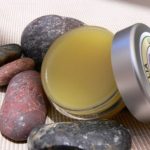 Offers A Multitude Of Benefits For Your Skin
Pure natural product designed especially to heal and sooth your skin instantly, especially as a tattoo aftercare.
No need to suffer discomfort and scaling – treat your skin for fast recovery.
The flowers, essential oils and all natural ingredients used, are known to benefit all skin conditions.
Wrinkles, rashes, irritation, insect bites, relaxation and more.
Gentle refreshing natural scent. Freshly made in small quantities!
Tattoo Aftercare Natural Healing Balm, offers relief from everyday skin conditions.
"At Last, A Natural Alternative That Works!"
You've tried all the chemical-filled, over-the-counter and prescription compounds that can aggravate your skin condition.
Your skin needs gentle, natural sustenance! 

Just as we feed our bodies the freshest ingredients to foster vibrant health and radiant energy, 
our skin needs natural, healing ingredients to repair and sustain its most optimum and healthy condition.
Best Use:
All day excellent moisturizer for your feet, hands, face, body. Rub a little on your hands and apply to the desired area as often as you need.
Fast absorbing & instant calming – a tiny amount will benefit your whole body.
Keep at room temperature or at a cool place. Fresh gentle natural scent. No need to buy expensive creams. This 1 oz will last for a very long time.
Tattoo Aftercare Natural Healing Balm Offers Pure Natural Ingredients:
Calendula Flower, infused Olive Oil, Chamomile Flower, Rose Geranium infused Oil, Aloe Vera Oil, Vitamin E Oil, Shea Butter, Cocoa Butter, Beeswax, Essential Oils. No Alcohol, Glycerin, Acids, Petrolatum,.
No chemicals, or Artificial Fragrance.
Pure Wellness in a Jar!
Pure Natural Ingredients! A treatment for Body & Spirit!
Made in USA By CUREALIA
Discover why natural skin care products from Curealia are the best choice. The natural personal care products work without harsh chemicals and it acts as a barrier while softening and protecting your skin condition.
Sold by Earlums