Description
 10 American Flag Charms Pewter Silver Tone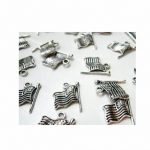 15X19mm.  Imported, sold by Earlums
10 American Flag Charms,use them for bracelets, earrings or just as pendants with your favorite necklace.
Charms have been enchanting people since prehistoric times. Frequently referred to as amulets or talisman, the wearing of charms has been associated with magic, mystique, protection, spirituality and love.
10 American Flag Charms that we offer, are beautifully cast, and feature very fine details.  Pewter is not a spectacular or rare metal, but no other material compares to the simple, soft, subdued texture and color of pewter.
Pewter alloy is made of tin, bismuth, antimony, and sometimes copper or silver — depending on the alloy the manufacturer has selected for a specific item.
Colonial pewter often contained lead to give it strength. Lead causes old pewter to turn it's characteristic dark gray color.  Today's lead free pewter softens to a very light gray patina and it is very used in making wonderful charms and pendants.
All  our charms are lead free.
The Egyptians started using charms as early as 3000 BC. They used charms to ward off evil spirits, protect loved ones in the afterlife, enhance fertility, and assure prosperity.
As master goldsmiths they were the first to develop the ability to cast gold, using the lost-wax technique which many jewelry manufacturers, still use today.
In the mid-1800's, Queen Victoria further popularized charm bracelets by wearing small lockets containing family portraits and locks of hair of her beloved husband, Prince Albert.
Imported, sold by Earlums