Description
Leverback Earrings
12 pairs (24 earrings) 3 Silver Tone to choose from, or Golden Tone.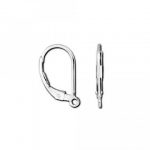 Leverback earrings are more comfortable and more secure than earwires, ear hooks or studs. Once you try them you never go back… Light weight and comfortable, this leverback earrings, are at a reasonable price. There are a large variety of earrings that have leverbacks. Ours are the easiest to use. They have curved ear wires that secure the earring in place. Leverback earrings are a good accessory for any fashion statement. They click in and are easy to wear. Leverbacks are sturdy and stylish, and are usually attached to dangling ear ornaments.
Use this earrings to make your most unique comfortable earring designs. Adding your favorite charms, beads or stones will make this type of earring a favorite.
There is a new fashion trend, that will have this comfortable, cute, delicate, Leverback Earrings, classified as an awesome accessory. Get your 12 pairs today! It will make a special gift for you, or that special person in your life.
Thank you for visiting our Earlums store and please check out some products that could complement this earrings.
Set of 12 pairs of silver spring loaded leverback earrings (24 pieces)
They have an open hoop to dangle your charms  off of.
Three 3 silver color tones to choose from: silver, light silver and dark tone silver
Each measures approximately 11.5 x 16 mm (7/16″ x 5/8″)
Rhodium plated alloy.
Surplus supply
Imported sold by Earlums