Description
Black Magnetic Keloid Earrings 6mm 8mm 10mm 12mm 15mm 19mm 21mm 25mm
Painfully Strong! Great for keloid pressure compression or as fake ear plugs/gauges.
You will receive a pair of magnetic earrings as follows: 4 black (epoxy coated) , strong magnetic discs (1pair).
The layer of black epoxy coating give the magnets, more superior cracking and chipping resistance.
Consult your medical professional for advice before purchasing!
Black Magnetic Keloid Earrings
You'll love this earrings!!
Our newest magnetic keloid pressure earrings are the perfect accessory for a person looking for non-pierced alternative.
We just added 6mm option to our listing!
6 x 1.5mm, 8 x 1.5mm, 10 x 1.5mm, 12 x 1.5mm, 15 x 1.5mm, 19 x 1.5mm, 21 x 1.5mm, 25 x1.5mm
Even size, diameter round black magnetic discs.
1.5mm (1/16inch) thick, thickness of a penny.
The fashion effect of gauge ear plugs without the pain or permanence of a real piercing.
If you would like a reversible pair (silver and black or golden) Click Here! 
Painfully Strong.
Wear them sparingly. Your ears could become sore from the pressure. Take them off for a few minutes, let the blood flow back into your ear, and put them back on.  After a while you can comfortably wear them for longer periods.
PLEASE, FOLLOW YOUR PHYSICIAN'S GUIDELINES FOR HOURS OF DAILY WEAR AND DURATION OF USE.
Treat your Magnetic Keloid Pressure Earrings earrings like GLASS.  They will break  really easy if you're not careful. Their mechanical properties more closely resemble a CERAMIC, rather than a metal. They are hard and brittle and may chip or break if dropped. Despite the metallic appearance of their nickel plating, they are not strong as steel.
If subjected to sharp impacts, such as allowing them to slam into one another, they can easily crack or break.  Care and proper handling of this Magnetic Pressure Earrings are important.
Note:
Content on this listing is for reference purposes and is not intended to substitute for advice given by a physician, pharmacist, or other licensed health-care professional. Fit and comfort will vary depending on ear lobe size, shape, wear, and dexterity on placing them on. Not suitable for children.
Important Safety Warning!
Children should not be allowed to handle magnetic jewelry as they can be dangerous. Small magnets pose a choking hazard and should never be swallowed or inserted into any part of the body. NOT RECOMMENDED FOR PEOPLE WITH NICKEL ALLERGIES!! They contain nickel!! The magnets used in our earrings, can affect and/or damage items such as cathode ray tube television and computer monitors, credit cards, bank cards, computer disk drives, diskettes, video tape and other magnetic data carriers and storage devices along with mechanical watches, hearing aids, loud speakers and some electronics. Pace-makers may be damaged or switch to "Test Mode" in the presence of a strong magnetic force, if a pace-maker is in use, keep a minimum of 3 feet distance.
© All designs, photographs, description and content are the exclusive property of Earlums.com and are under Copyright Protection© 2009-2020
Painfully Strong!
It takes a little bit of wearing to get used to how strong they are. First time they should be worn for about 10-15 minutes. Take them off for a few minutes. Let the blood flow back into your ear, and put them back on. If they irritate your ears, discontinue using them, immediately.
These earrings offer great constant pressure and look awesome on the ear.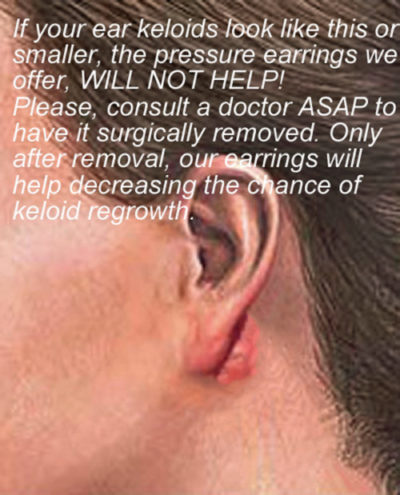 Find some of our products on Earlums/Etsy store.
© All designs, photographs, description and content are the exclusive property of Earlums.com and are under Copyright Protection© 2009-2022