Description
Square Magnetic Keloid Earrings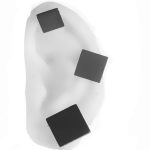 Square Magnetic Keloid Earrings 10mm 12mm 15mm. Great for keloid pressure compression or as fake ear plugs/gauges.
You will receive a pair of magnetic earrings as follows: 4 black epoxy coated strong magnetic squares (1pair).
The layer of black epoxy coating give the magnets, more superior cracking and chipping resistance.
You'll love this earrings!! Square magnetic keloid earrings are the perfect accessory for a person looking for non-pierced alternative.
10mm, 12mm and 15mm, even size/diameter, black magnetic square pieces.
1.5mm (1/16inch) thick, thickness of a penny.
The fashion effect of gauge ear plugs without the pain or permanence of a real piercing.
They are delicate like GLASS. May chip or break if dropped. 
Careful care and proper handling is very important!
Painfully Strong!
Takes a little bit of wearing to get used to how strong they are. First time they should be worn between 5-10 minutes. Take them off for a few minutes. Let the blood flow back into your ear, and put them back on. If they irritate your ears, discontinue using them, immediately.
These earrings offer great constant pressure and look awesome on the ear.
NOTE:
Content on this listing is for reference purposes only. Not intended to substitute for advice given by a physician, pharmacist, or other licensed health-care professional. Fit and comfort will vary depending on ear lobe size, shape, wear, and dexterity on placing them on. Not suitable for children.
We are not medical professionals!!
PLEASE, FOLLOW YOUR PHYSICIAN'S GUIDELINES FOR HOURS OF DAILY WEAR AND DURATION OF USE.
Information at EarLums.com is exclusively of a general reference nature and is based solely on customers feedback. 
For more infos check our our FAQ.
Find some of our products on Earlums/Etsy store.
© All designs, photographs, description and content are the exclusive property of Earlums.com and are under Copyright Protection© 2009-2018