Description
Evil Eye-Ear cuff Earrings, handmade by Earlums.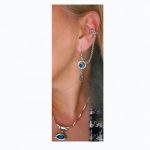 Chained hook earrings, with evil eye glass bead charms attached, with one silver plated ear cuff. The ear cuff is soft and easily bendable which helps accommodate your ear comfortably. If its not big enough to fit the middle part of the ear, then it could be used as an upper Helix cuff. Ear cuff, hook earrings and chain are made with permanently colored silver base metal (copper).
 You'll love how the chain and charms, perfectly dangles on the ear and how this unique colorful set will add glamor to your looks.
 There is a new fashion trend, that will have the Evil Eye-Ear cuff Earrings, classified as an awesome accessory.
Light weight and comfortable, this handmade ear cuff with chained hook earrings are a nice addition to your ear jewelry at a reasonable price.
 Perfect set for slave, boho, chic, hippie, indie, gypsy or tribal style.
It will make a special gift for you, or that special person in your life.
The compliments you'll receive wearing this set, will be endless….
Give it to your sister, mother, best friend or yourself.  
Unique and elegant look!
Handmade in the USA by Earlums.
"The evil eye is a look that is believed by many cultures to be able to cause injury or bad luck for the person at whom it is directed for reasons of envy or dislike. The term also refers to the power attributed to certain persons of inflicting injury or bad luck by such an envious or ill-wishing look."
© All designs, photographs, description and content are the exclusive property of Earlums.com and are under Copyright Protection© 2009-2014