Description
Fake Nose Ring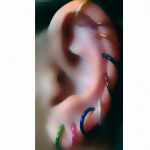 Sold in Pairs -Non Pierced Hoops for Lips, Septum, Ear Cartilage, Punk, Goth, Faux Piercing, Cosplay, Handmade Jewelry by EarLums.
Fake Nose Ring pair, is the perfect gift for you or your loved ones.
Add a touch of shine and simplicity to your looks with this pair of hoops for your nose, lips, ear lobe, your ear cartilage, rook, tragus and septum.
Seamless endless hoop style, handmade with 18 Ga. permanently colored anodized aluminum wire.
Perfect accessories for punk and gothic dressing. Nobody will ever know its a fake! :):)
If your teenager is asking for body piercings, this fake nose ring pair is your answer.
 This type of hoop jewelry comes in many colors and sizes and will add the perfect touch, to your  everyday look. When you squeeze the hoops together, it will give the illusion of permanent piercings without the pain.
Fake nose ring pair of hoops plain, simple, classic, elegant and comfortable to wear.
Can be used as nose, ear, lips, septum, or as helix hoop pair of rings. Wear them as you please.
Nine colors and 4 sizes to choose: 15mm, 12mm, 10mm, 8mm.
Available colors: Black, Silver Tone, Golden Tone, Green, Hot Pink, Copper Tone, Brown, Royal Blue and Red.
Open ends are hand filed for comfort.
All our hoop rings are made to order.
HOW TO WEAR IT:
Open the cuff slightly if necessary. Slide the hoop up around your nostril/septum/cartilage/tragus or lips, and squeeze gently to secure in place. That's it! Is that simple! :):)
No one will ever know that your piercings aren't real..