Description
Helix ear cuff
cuff made to be worn on the upper ear cartilage. Wire used for this helix ear cuff, looks like separate bands going through your ear, giving the impression of multiple piercings.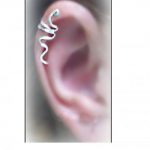 It can be worn closer to the forward helix or further back as well. Great for everyday, lightweight, easy to adjust and comfortable. No piercing is required for this ear cuff. Made to order with your choice of metal.
The perfect gift for you or your loved ones.
Made in USA by Earlums, with American made silver and gold.