Description
Healing Stones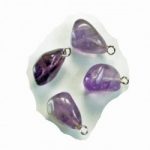 Necklace with Amethyst Pendant.  18" Gold or Silver necklace with 4mm square black onyx, silver round beads and tumbled polished, purple amethyst healing stones pendant. These amethyst gemstones have a baroque irregular shape. Each stone is a unique shape and will range in size anywhere from 12mm up to 20mm in dimension. Please be aware of slight variations in size, shape and color.
Promoting: power, protection, healing, encourages inner peace, fights addictive behavior, transforms energy.
Chakra: Seventh Chakra – Crown or Pineal Gland
Chain width: 1.5mm Overall length: 18″ Clasp type: Spring ring
Made in USA
No claims are made. These alleged powers are gathered from writing, books, folklore and various sources.