Description
Marcasite and Shell Pearl Earrings
made with.925 Sterling Silver infinity design drop post earrings with marcasite and shell pearl charms attached. The shell pearl is approximately 10mm. The earrings hang approximately 42.5mm, get yours, today! Enjoy the beauty of this pair of earrings, made for that special occasion! Purchase with confidence!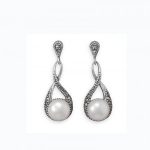 Exquisite look at a reasonable price.
Get it for yourself or, as an amazing gift for someone you care about. Really wort it!
IMPORTED sold by Earlums