Description
Izabella Ear Cuff Wrap with center Jewel made with Silver wire and Pink tone Crystals
Ear cuff wrap with center Jewel, made with silver wire and a various mixture of beads and crystals in a pink tone.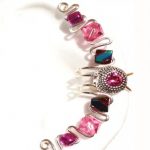 No piercings needed! Add a little touch of flair to your outfit with this bilateral ear cuff by Earlums.  All our handmade ear cuffs don't require any ear piercing. Could be worn on either ear. They wrap around the edge of the ear cartilage and rest just above the earlobe. Since they do not pierce or penetrate the body, there is less concern about allergic reactions. This ear cuff wrap for non pierced or pierced ears, should fit the average ear. Most people are able to find a spot on their ears that is comfortable and easy to place! To test the fit, try it on and pull it sideways. If the fit is poor, adjustment may be made by squeezing the gap closer, or widening it, slightly.. That is enough to change the fit. A good fit will not pinch, hurt or slip off easily.  Please, keep in mind that every ear cuff wrap, will fit slightly differently and every ear anatomy is different. Some ear cuffs may be more comfortable than others.  Usually worn as singles , if you like a pair please, order 2.  Due to the difference between monitors, the the actual color of the item might look slightly different.
Light weight and comfortable, Izabella ear cuff is an exquisite piece of jewelry, at a reasonable price.
Makes a wonderful buy and or, a beautiful gift. Showy in a bold and pretty way, it'll give you an elegant and stunning look.
It will make a special gift for you, or that special person in your life.
There is a new fashion trend, that will have Izabella ear cuff classified as an awesome accessory. We sell this one on our Ebay shop.
Patented design. Made in the USA, with domestic and imported findings.