Description
  Lux – Ear Cuff Jewelry Gold or Silver Tone
No piercings needed!
Slightly hand forged (hammered) silver or gold Ear Cuff. Entirely hand worked, this Earlum is a unique and original bilateral piece.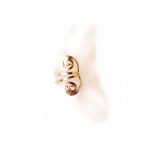 It could be worn on the left or right ear. Usually worn as singles, if you would like a pair, please order 2.
Makes a wonderful buy and or, a beautiful gift. Showy in a bold and pretty way, it'll give you an elegant and stunning look.
Due to the difference between monitors, the the actual color of the item might look slightly different.
Light weight and comfortable, this Lux ear cuff jewelry  is an exquisite piece of jewelry, at a reasonable price.
It will make a special gift for you, or that special person in your life.
There is a new fashion trend, that will have this ear cuff classified as an awesome accessory.
Made in USA by Earlums