Description
Kenda Ear Cuff Chained Earrings
Made with turquoise beads and silver leaf charms attached to silver studs, chained to one ear cuff.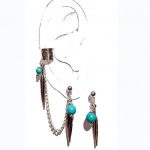 Light weight and comfortable, this silver ear  cuff   set is a cute piece of jewelry, at a reasonable price.
This ear cuff chained to earring stud is crafted in a unique cute and simple design!  You'll love how the chain perfectly dangles below the ear and the turquoise beads and silver feathers, add a splash of color and grace. Perfect for slave, boho, chic, hippie, indie, gypsy or tribal styles.
The ear cuff, chain, studs and charm are silver plated, nickel lead and cadmium free. Unique and elegant look with this Tribal look, Slave Earrings!
It will make a special gift for you, or that special person in your life.
The compliments you'll receive wearing this set, will be endless….
Handcrafted in the USA with imported findings.