Description
Kitty – Clip On Earrings chained to one ear cuff,
for unpierced ear lobes, with spider charms and chained ear cuff.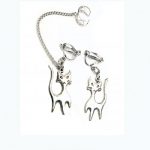 Do not require any piercings! The clip-on attachment holds on to your lobe, while the cuff clips on to your cartilage. A perfect solution for those of you without piercings.  Enjoy the fashion effect of real ear piercing without the pain or permanence of a real piercing. It will make a special gift for you, or that special person in your life. There is a new fashion trend, that will have this set classified as an awesome accessory.
Kitty – Clip On Earrings is light weight and comfortable and are a nice addition to your everyday look.
Made with lead, nickel and cadmium free silver plated metals. Nice, trendy set for an awesome look.
Handmade in USA by Earlums with domestic and imported findings.