Description
Toni-Multiple Piercings Earrings.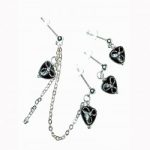 Double or Triple Piercings Chained Earring Set.
Have multiple cartilage piercings? Then, this multiple piercings earring set, is the perfect accessory for you! Use this set for your double, triple top of ear, helix, cartilage, ear piercings.  This year is all about having fun and living every moment to the fullest! Why not always feel cute and look your best by accessorizing with affordable and cute, ear jewelry.
You will receive one chained double stud earring with black acrylic charms attached and two  single studs with black charms attached, as seen in the main photo. This light weight double or triple piercing earring set is made for two or three lower earlobe piercings and 1 upper cartilage Helix piercing. If you would like it for both ears, please order 2 sets, if you like an extra pair of stud earrings to match, please click here.
Perfect at any age!!! Beautiful and classy, yet sexy and mysterious.
Surgical steel 4 mm ball studs .. nickel, lead and cadmium free. Comfortable, clear rubber backings.

Handmade in the USA by Earlums with imported findings
© All designs, photographs, description and content are the exclusive property of Earlums.com and are under Copyright Protection© 2009-2014