Description
White Faux Pearls Finger Pressure Keloid Clipon Earrings. White faux pearls, permanently attached/glued to the handmade silver tone wire wrapped clipons. Choose the size you like and need.
Available sizes: 8-10mm, 12mm, 15mm, 18mm.
Ouch-less clipons, provide even pressure on the lobes if squeezed tightly. Really comfortable when properly adjusted. The wire used, bends enough that you can customize the part that wraps around your ear lobe. Sturdy enough that you should not be concerned with them breaking or falling off. Great for keloid scar concealment. Could be used for post operative keloids surgery (please, consult your doctor). Enjoy the fashion effect of real ear piercing without the pain or permanence of a real piercing.
It will make a special gift for you, or that special person in your life. Nice addition to your everyday look. Give it to your sister, mother, best friend or yourself. Simple, unique and elegant look!
White Faux Pearls Finger Pressure Keloid Clipon EarringsKeloid
IMPORTANT NOTE for placement:
Please, make sure that your ears are free of lotions or greasy products. Use paper clip principle/technique to place them on your ears, and then squeeze/twist to close them tightly. Our earrings, have no pressure to them, on their own. The more twist/pressure applied, the better retention.
There is no soldering, no gluing, no screws, no welding or mechanisms to hold them on the ear. Earring retention on the lobe depends only on your placement and pressure.
Visit our magnetic Keloid Earrings here.
Disclaimer:
Content on this listing is for reference purposes and is not intended to substitute for advice given by a physician, pharmacist, or other licensed health-care professional. Fit and comfort will vary depending on ear lobe size, shape, wear, and dexterity on placing them on. Not suitable for small children.
Earlums.com, neither assume nor accepts any liability for damages resulting from the handling or use our clip-on earrings.
Check out our Earlums Etsy store here.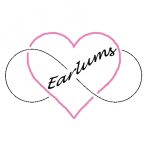 © All designs, photographs, description and content are the exclusive property of Earlums.com and are under Copyright Protection© 2009-2020