Description
Birthday Color -Crystals Ear Cuffs.
Thin and hollow light weight gold or silver tone ear cuff, with attached Swarovski Crystals.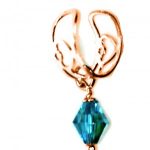 Choose your color: December – Blue Topaz, November – Topaz, October – Rose, September – Sapphire, August – Peridot, July – Ruby, June – Light Amethyst, May – Emerald, April – Crystal, March – Aquamarine, February – Amethyst, January – Garnet
Very easy to wear, this Ear Cuffs  are simple and great for an everyday look.
Wear them as a single or wear them as pairs.
Sold as singles, if you would like a pair, please order 2.
Made in USA, with imported findings.