Description
 Joy Pendant Sterling Silver Necklace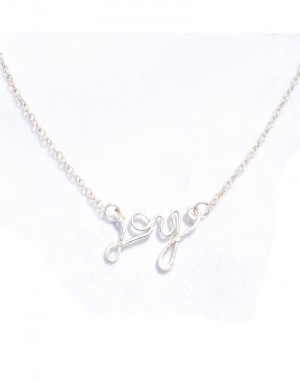 16″Sterling Silver necklace with handcrafted hand forged (hammered) JOY pendant. Very cute, simple, delicate and elegant. Light weight and comfortable, this necklace is an exquisite piece of jewelry, at a reasonable price. Fashionable, classic & trendy, this necklace will add a little touch of flair to your looks. Everyone has had that moment of joy, that one would want to last for ever. That's what this Joy pendant is all about, made with Sterling Silver Wire, attached to a Sterling Silver 16″necklace. It will make a special gift for you, or that special person in your life. There is a new fashion trend, that will have this necklace classified as an awesome accessory. This necklace has a modern design to dress up casual or add a little glamor to a night out.
It will arrive in a ready-to-give, box.
Fashionable, classic & trendy.
Not your ordinary necklace, this piece would get a lot of attention, its simply beautiful.
Handcrafted in the USA by Earlums, with Sterling Silver made in USA.