Description
  Plain Ear Cuffs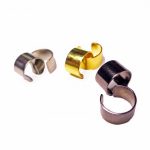 Sold in pairs or as a bundle! Choose your favorite color or get them all.
No piercings needed!
Add a little touch of flair to your outfit with this simple nice lightweight plain ear cuffs.
Sold in pairs. Gold, Silver or Black Tone. Boxed and ready for gifting.
Our Plain Ear Cuffs are cute, plain and simple ear adornments for you or someone you love.They have a small 1mm hole in the center that can be used for a charm or chain attachment.  Get a pair in your favorite color, or go crazy and get all 3, one pair golden, one pair silver tone and one pair black. Bilateral, could be worn on either ear. They wrap around the edge of the ear cartilage and rest just above the earlobe. Since they do not pierce or penetrate the body, there is less concern about allergic reactions.
Made of brass, lead and cadmium free,  about 9.5mm in diameter, 6mm wide, 0.5mm thick. Our plain ear cuffs are soft and easily bendable/adjustable for the perfect fit.
This plain ear cuff pair, should fit most average ears. To test the fit, try it on and pull it sideways. If the fit is poor, adjustment may be made by squeezing the gap closer, or widening it, slightly by pulling the ends.. That is enough to change the fit. A good fit will not pinch, hurt or slip off easily.  Please, keep in mind that every ear cuff, will fit slightly differently and every ear anatomy is different. Some ear cuffs may be more comfortable than others. 
Most people are able to find a spot on their ears that is comfortable and easy to place! Hopefully you'll find yours.. Enjoy the compliments!
Visit our Etsy/Earlums store here
© All designs, photographs, description and content are the exclusive property of Earlums.com and are under Copyright Protection© 2009-2018