Description
Amethyst Stones  Argentium Silver Leverback Earrings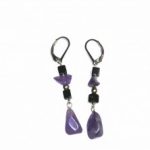 4mm square black onyx with silver round beads and tumbled polished purple amethyst healing  stones charms.
Hypoallergenic Argentium  Silver leverback earrings,  made in USA.
The  tumbled polished amethyst stones have a baroque irregular shape.
Each stone is a unique shape and will range in size anywhere from 12mm up to 20mm in dimension.
Please be aware of slight variations in size, shape and color.
Promoting: power, protection, healing, encourages inner peace, fights addictive behavior, transforms energy.
Chakra: Seventh Chakra – Crown or Pineal Gland
Comes in a cute little box so you can give it as a gift – or enjoy opening it as a gift yourself!
Made in USA with American made findings.