Description
Helix Five Cartilage Ear Cuff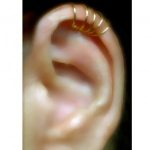 No piercings necessary!
One bilateral Earlum Helix Ear Cuff,   has 5 hoops, made with gold or silver tone wire. Looks like you would have  multiple cartilage piercings.
This listing is for one 5 hoops, upper cartilage (helix) ear cuff by Earlums handcrafted in USA with your choice of wire. With the pliable yet durable nature of the wire we use, you can simply adjust the piece with your fingers, it bends enough that you can customize the part that wraps behind your ear, but it's sturdy enough that it will stay put.
Usually worn as singles, if you'd like a pair, please order 2.
Before purchasing Helix Five Cartilage Ear Cuff please, keep in mind that these items are not made for continuous use, and if you're not familiar with ear cuffs, it could be a little challenging to adjust and wear one.
Adjustable Cartilage Ear Cuff handmade with your choice of wire.
No piercing needed, it looks just like the real thing!
Light weight and comfortable, this Helix Five Cartilage Ear Cuff is a cute piece of  jewelry, at a reasonable price. Makes a wonderful buy and/or a beautiful gift.
Showy in a bold and pretty way, it'll give you an elegant and stunning look. Whoever you buy this for, be it yourself, or another, you're in for a love affair with this piece.
There is a new fashion trend, that will have this Cartilage Ear Cuff classified as an awesome accessory.
Due to the difference between monitors, the the actual color of the item might look slightly different.
Thank you for visiting our Earlums store and enjoy all the compliments you'll get wearing this cool ear cuff!
Made in USA, with passion and uniqueness by Earlums.
We sell them on Amazon.com and Etsy.com