Description
Diva Multiple Piercings Earrings (one)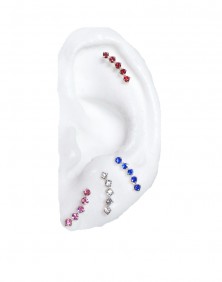 Cartilage, Helix  Stud Earring.  Sterling silver post stud,with colorful mini rhinestones for top of ear, helix, cartilage piercing or multiple ear piercings. Get your favorite color or get them all.
Wonderful dazzle of multiple piercings earring studs to make a unique statement.
Just think of the attention you'll get!
Very easy to wear, great for a night out, or for an everyday look.  Light weight and comfortable, this studs are great, jewelry, at a reasonable price.
Wear them as a single or wear them all at once. Mix and match to what feels and looks good to you.
Colorful and sparkly this  multiple piercings  earrings will rock your world!  Accessorize yourself with  Diva-Multiple Piercings Earrings!
Old or young, everyone will enjoy the compliments received .
Metal: .925 Sterling Silver Size: 10mm x 10mm (L x W) Stones: Sparkly Rhinestones  Back Finding : Flexible Rubber
Sold as single!
IMPORTED sold by Earlums