Description
Spring ten Ear cuff  Silver or Golden

No piercings needed!  Handmade wrapped wire, Spring ten ear cuff, features 10 hoops that will  give the illusion of multiple piercings. Really neat piece!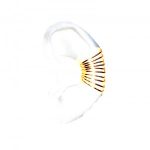 Light weight and comfortable, this ear cuff is an cute piece of jewelry, at a reasonable price.
Makes a wonderful buy and or, a beautiful gift. Showy in a bold and pretty way, it'll give you an elegant and stunning look. There is no soldering, no gluing, and no welding.
Each piece is designed for that one-of-a-kind look.
Whoever you buy this for, be it yourself or another, you're in for a love affair with this piece.
There is a new fashion trend, that will have this Spring Ten Ear cuff, classified as an awesome accessory.
Tuck your hair behind your ears, throw on some lipstick and show it off.
Unique, unusual, beautiful handcrafted design, ear jewelry for any occasion.
Usually worn as singles. If you would like a pair, please order 2.
Handcrafted design truly handmade in the USA.
Earlums ear cuff wraps are bilateral. They could be worn on either ear with or without earrings.
Fashionable, glamorous and comfortable if adjusted properly.
With the pliable yet durable nature of the wire we use, you can simply adjust the piece with your fingers.
Not only the width of the cuff, but also the angle or length to what feels and looks best to you!
Wear one or two and see how many compliments you'll get.
Before purchasing, please keep in mind that if you're not familiar with ear wraps/cuffs it might be a little challenging to adjust and wear one.
Due to the difference between different monitors, the the actual color of the item might be slightly different.
Handmade in USA,  by Earlums .